Scheduled Time: sun 1800 – 2100 on channel 1
DJs: Reese
Description: Live performances in the WMUC live room.
Broadcast on-air.
You're welcome to watch.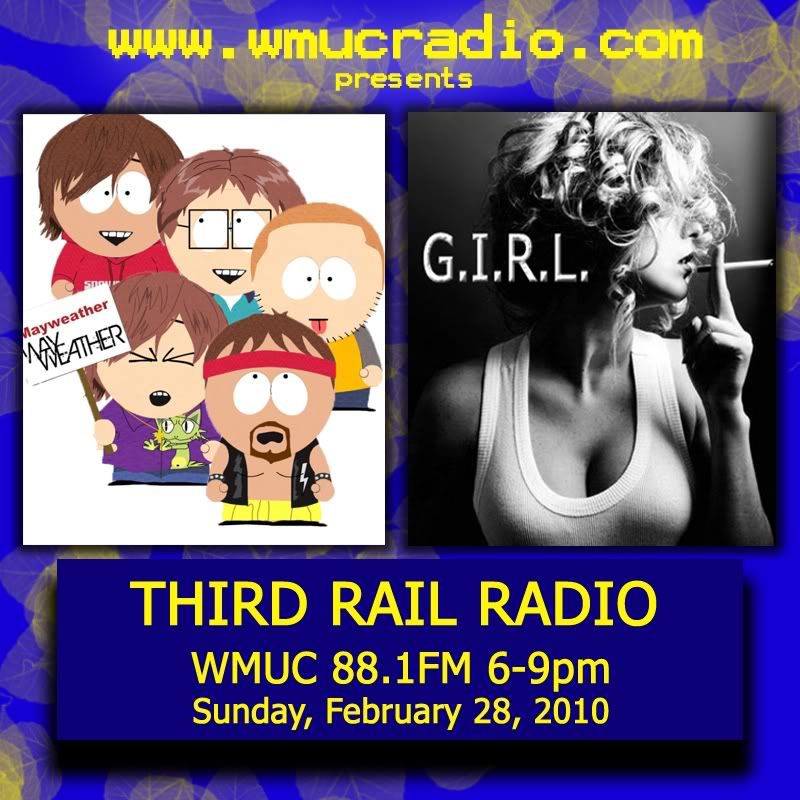 You should listen.
Genre: LIVE MUSIC
Homepage: http://www.
facebook.
com/ThirdRailWMUC
About: Live music program on Sundays from 6-9 PM on WMUC 88.
1 FM, the University of Maryland's student-run radio station.
Stream it live here: http://wmucradio.
com/wmuc-high.
m3u
Download it here (each week's show is archived through Saturday 11:59pm): http://wmucradio.
com/stream_ripper/sun/Third_Rail_Radio_1800_2100.
mp3
Listen live or visit the station to catch some great live music.
South Campus Dining Hall (Third Floor) on the UMD campus.
College Park, MD.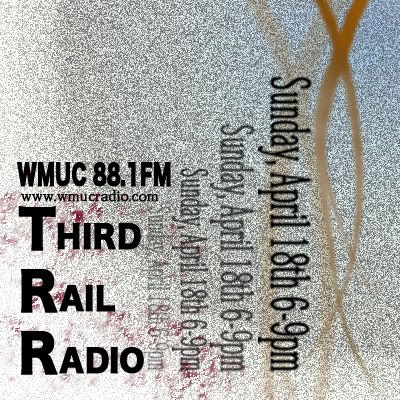 Guests: SCHEDULE
FEB.
26: THE PLUMS / DOT DASH / THE ELECTRICUTIONS
MARCH 4: ARBOURETUM / MICROKINGDOM / OTHER COLORS
MARCH 11: TIDELAND / UNFAIR ROOTS / ENDLESS BUMMER / PITY RALLY
BREAK
APRIL 8: FRIEND COLLECTOR / CURSE / ALARMS & CONTROLS
APRIL 15: WEEKENDS / WITCH HAT / RED EXIT / DAN IVAN
APRIL 22: ED SCHRADER'S MUSIC BEAT / ROOMRUNNER / DELETED SCENES
APRIL 29: JOHN DAVIS SOLO (TITLE TRACKS) / THE CARIBBEAN / TALK IT
MAY 6: CHAIN AND THE GANG / LORELEI / CEREMONY / TAMMY
Special event on May 13?! — STAY TUNED TO FACEBOOK OR WMUCRADIO.
COM
Archived Playlists
| Show Date | Entered By | Last Modified |
| --- | --- | --- |
| 02/26/12 | Reese | 02/28/12 01:43:04 |
| 03/04/12 | Reese | 03/04/12 20:39:21 |
| 03/11/12 | Reese | 03/11/12 21:02:28 |
| 03/18/12 | Reese | 03/18/12 21:01:07 |
| 04/08/12 | Reese | 04/08/12 20:48:04 |
| 04/15/12 | DJ Citation Needed | 04/15/12 20:59:41 |
| 04/22/12 | Reese | 04/22/12 20:29:31 |
| 04/29/12 | Reese | 04/29/12 20:36:56 |
| 05/06/12 | Reese | 05/06/12 21:23:31 |
| 05/13/12 | Reese | 05/13/12 20:43:45 |